Produsele ce se află la vânzare sunt dozele de CocaCola, CocaCola Lime, CocaCola Zero, Fanta și Sprite și se vând sub forma unui pack de 2 produse, în orice combinație, la pretul de 5 lei.
5 to go și Coca Cola încurajează noțiunea de shareing și prietenia, invitând clienții să vină împreună cu prietenii sau partenerul/a în cadrul cafenelelor și să împartă împreună pack-ul de 2 produse aflat la vânzare in toate locațiile. Lanțul de cafenele preconizând o dublare a numărului de locații în următoarele 24 de luni.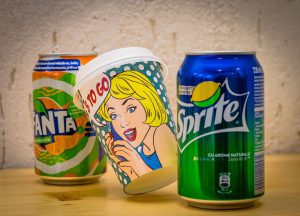 Până la sfărșitul anului curent, lanțul de cafenele va consemna 70 de unități, urmând ca până la finalul anului 2018, numărul cafenelelor 5 to go să se apropie de 100.